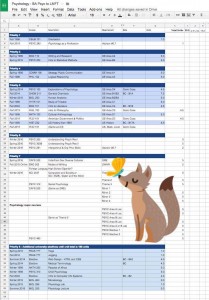 [Update 9/17/15: I'm a Student Nurse!] I was up till nearly 4AM because my brain couldn't stop turning. A few weeks ago, one of my partners in Psych Stats said she was back in school to become an English teacher after she waited 3 years for the BC Nursing program lottery to pick her. That's 6 applications, not counting her applications to Porterville before she eventually gave up. On the flip side, I've had friends and my own brother have their names pulled the first year they applied.
Either way, it planted a seed that didn't start sprouting till last week. I really hate just twiddling my thumbs… so it only seemed very natural for me to continue my education… I've debated a couple routes… all routes I've considered before and I feel are a good fit for who I am and what I'd enjoy as a career. I'm currently mapping my path towards a BA in Psychology.
I am a few points shy of probably making it into CSUB Nursing for Fall 2015 (this year), which means my next application is going to be CSUB Fall 16 and BC Fall 16… After that, my road is a dead end with CSUB Nursing and it is all the BC lottery. I can still continue applying for BC each semester, building my chances… all the while earning my BA that would compliment the profession.
At that point I have two options:
1. Continue towards a MS in Counseling Psychology, becoming a Licensed Marriage and Family Therapist.
2. Apply towards an A-BSN (Accelerated Bachelor of Science in Nursing for BA/BS degrees not in nursing). There's none offered in Bakersfield, which will mean a 15-22 month commitment away from home :O
Either way, I feel like I am back on track with a plaaaaaaan.